Tenderfoot Guest 03 - DIVA

Our mothership Dalston Supertore has started a new weekly party - every Tuesday 'Tenderfoot' hosts one of the Dalston Supertore residents, and asks them to invite a fresh up-and-coming DJ to join then each week for a month. Throughout March our resident promoter Michelle Manetti takes the helm. Guest number 3 see's DIVA joining our resident. DIVA caught Michelle's eye after answering a call-out on Rhythm Sisters network, DIVA's sunshine vibes and skilled mixing caught her attention and she invited her to join her on March 19th as her second Tenderfoot guest. We asked DIVA to compile a playlist for our Friday Feels series, to give us a taster of what we can expect on Tuesday. We also had a quick chat with DIVA, about her DJ career so far and future aspirations.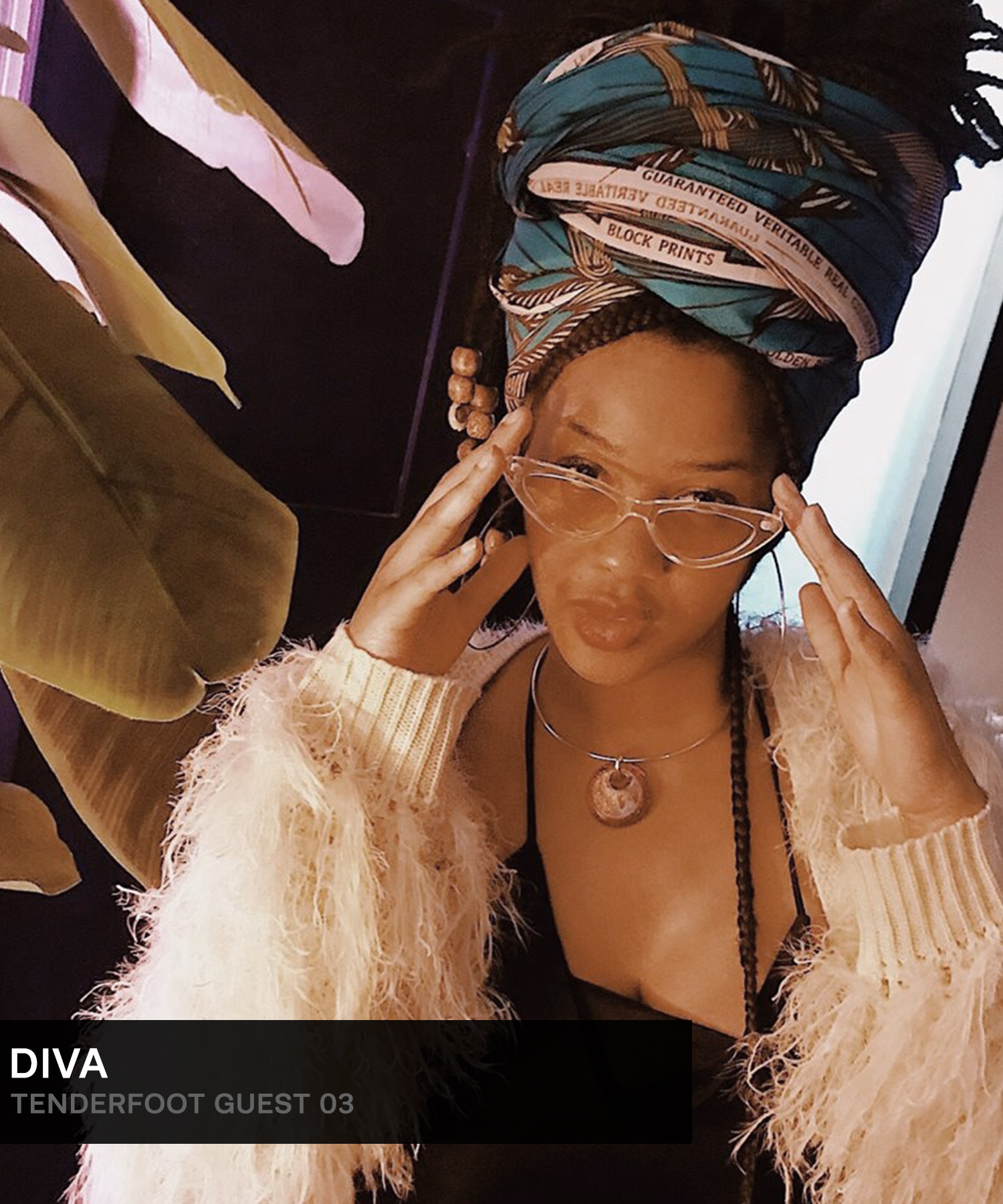 Hi DIVA. So we're excited to see you play this Tuesday at Tenderfoot and thanks for having a chat with us. So let's start at the beginning, when did you first start DJ-ing?
I started Djing when I moved to London from Paris. A brand new-life with brand new dreams.
So what was it that first inspired you to take to the decks?
My Dad is an African music producer. I ended up myself working in the music industry. I guess I just went naturally on the decks but never had enough confidence to finally take this thing seriously. Paris can be a tough city, London changed how I viewed life.
Well we're glad you moved to London then! So tell us a little about your DJ journey so far.
What I can say is that I'm very proud of my hustle, my commitment and the reception I've received so far. From my little bedroom to all these gigs I manage to get. It's important for my own growth to remember myself that this is an accomplishment. This year I'm about to hit another stage of this journey. Trying out the producing road.
The hustle is real girl, but it looks like it's def paying off! So tell us, what's been your highlight gig so far?
"Havana Cultura ¡Súbelo, Cuba!" at Rich Mix. A concert to celebrate the launch of this new album project led by Gilles Peterson and the Havana Club, showcasing traditional Afro-Cuban rhythms with influences ranging from hip-hop, to kuduro, UK funky and the Caribbean's ubiquitous dembow beat. I was a supporting act on this one. I think that was my best set so far, the one I enjoyed the most. The energy, the people...Everything felt right that night.
Sounds super fun! So where would you like to see your DJ career take you?
I guess around the world and around the right people that will make my life happy :)
Sounds like a pretty sweet dream, so finally, what musical treats can we expect from you on Tuesday?
I've been traveling between Mexico, Texas and New Orleans the past three weeks. I'm in a very good mood. So expect sunny, dancy African & Latino tunes !
Fab, bring some sunny vibes back for us! So there you have it, check out DIVA's Friday Feels spotify playlist below and don't forget to follow her on her socials.